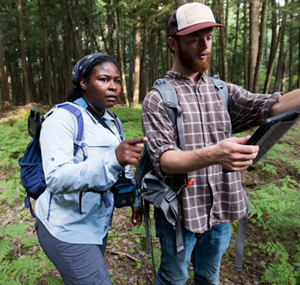 How we live impacts our planet in many ways. Sustainability scholars, researchers, and advocates at the University of Michigan strive to maintain our planet's life-support systems and to ensure that future generations can thrive here.
We have the knowledge, ideas, and ability to act, so as to leave future generations with a planet that has the same potential to support life and human activity as the one we all inherited. We can address the issue of sustainability from a very broad base of research and education, as well as through the actions we take as a community of more than 80,000 individuals.
Sustainability efforts are inherently interdisciplinary, drawing from the natural, social, and health sciences; the humanities; from professions such as engineering, public health, and social work; from the social and business sectors; from local communities, and all levels of government.
The highly complex environmental problems we face today can only be tackled through these highly-integrated approaches in order to make a lasting positive impact in our communities and worldwide.
---
Featured units in our sustainability ecosystem
Many units at U-M contribute to our sustainability efforts in research, education, community engagement, and operations. Among these are: