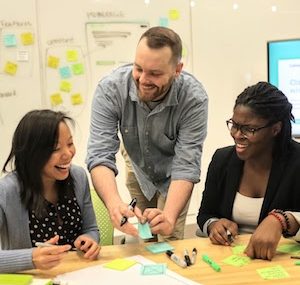 The University of Michigan is an idea generator, with a mission to challenge the present and enrich the future in service to the public. This mission demands that we translate these ideas into value for human society. Our public impact is felt in the many ways by which ideas and creative works generated within our academic community are used to create value, broadly construed, for the public we serve.
At the University of Michigan, we therefore embrace entrepreneurship from all angles — from engineering and research, to art and design, health and social development, and everything in between.
Entrepreneurship is intrinsically an interdisciplinary activity and extends to every discipline at U-M. Through the entrepreneurial work of our students and faculty and in collaboration with partners in southeast Michigan and across the world, we seek to promote the economic, social and intellectual development of the society that supports us.
---
Ecosystem
The University of Michigan has a vibrant and growing entrepreneurship ecosystem. The Innovation and Entrepreneurship Roundtable serves as a platform to convene groups throughout the ecosystem to share ideas, communicate opportunity, and disrupt barriers to collaboration.
One component of this interconnected network of programs is InnovateBlue, a portal that leads students to the many programs housed within the schools and colleges at U-M. InnovateBlue also provides an umbrella for the campus-wide minor in entrepreneurship, housed in the Ross School of Business. The Office of Technology Transfer provides support for U-M community members who seek to move ideas from the academy into the world through sustainable business or non-profit models. Our entrepreneurial work extends beyond the for-profit sector to social ventures as well, exemplified for example by Optimize and other programs across the U-M.