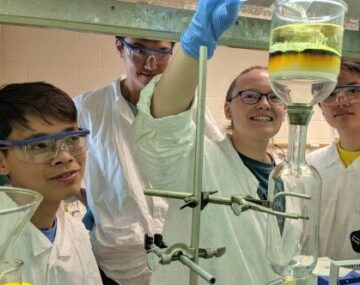 For more than 100 years, the Biological Station has offered the types of student learning experiences, and has generated the kinds of outcomes, that the U-M's Third Century Initiative seeks to inspire. This living-learning community hosts students and faculty living side by side and working where they live, researching the habitats and ecosystems of the world's largest freshwater basin from its almost exact geographic center.
Biological Station students have unique opportunities for engagement, and for addressing unexpected sustainability challenges, because they are pursuing learning opportunities in an inherently unpredictable and ever-changing landscape, namely the fields, forests, lakes, streams and human-dominated communities within which their research is embedded.
Until now, the Biological Station has focused mainly on training scientists— biologists, ecologists, and climate scientists. However, the immersive quality of this learning environment clearly has applicability far beyond scientific fields. By broadening the types of students, faculty and research agendas hosted at the Station, and by partnering more effectively with initiatives already taking place on the Ann Arbor campus, the Biological Station provides a new generation of students wide breadths of understanding across and beyond their particular disciplines, empowering them to become better informed and more effective environmental professionals.
In January, 2016, the Biological Station received a grant from the U-M Provost's Transforming Learning for a Third Century Initiative.
View current and past courses.