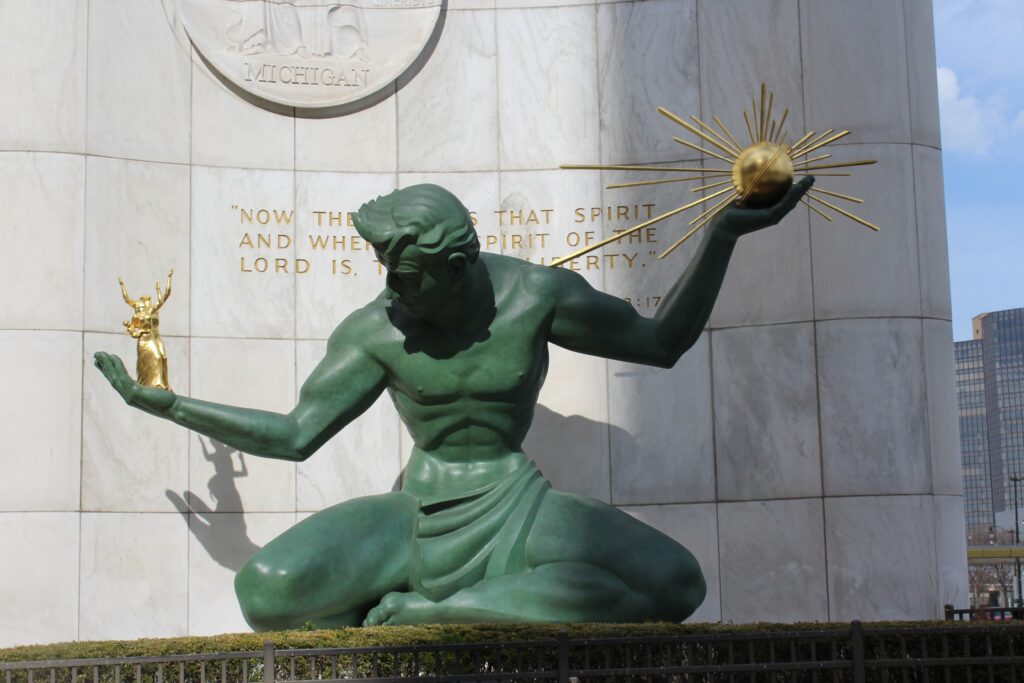 The Engage Detroit Workshops grant program supports small teams of U-M faculty, staff, students, and community partners in organizing workshops that will strengthen partnerships between the University of Michigan and Detroit.
The 2023 round of funding is supporting projects through August 2024. You can review the list of awardees below.
By Privilege and By Force: Studying Movement and Place-keeping in the West Village
Project leads: Damani Partridge, professor of anthropology, professor of Afro-American and African studies, College of Literature, Science, and the Arts; Malika Stuerznickel, graduate student research assistant, graduate student instructor, College of Literature, Science, and the Arts; Faith Bailey, graduate student, College of Literature, Science, and the Arts
Community partners: Ajara Alghali, Temate Institute for Black Dance and Culture
Description: The project is dedicated to studying the changes happening in the West Village neighborhood of Detroit. The focus is on how economic investment and demographic shifts are affecting long-time residents, particularly the predominantly Black community. It intends to record the community's history and experiences through public installations, an oral history archive, and an analysis of movement patterns. The project raises concerns about how changes in the neighborhood might impact residents, such as prioritizing dog-related amenities over community well-being and how young people are perceived as outsiders. By gathering stories and analyzing movements, the project aims to gain insight into the neighborhood's past and present from the perspectives of various generations of residents.
Papa Was Project: Exploring Fatherhood in Detroit
Project leads: Richard M. Tolman, professor of social work, School of Social Work; Sonia Harb, Detroit engagement strategist, School of Social Work; Feodies Shipp III, associate director, UM Detroit Center
Community partners: Sam Donald, Detroit Musix; Marcus Hille, Parent Think Thank; Willie Bell, Famly Assistance for Renaissance Men; John Miles, Children's Center; Bomani Gray, Metro Detroit Father Policy Group
Description: The project aims to conduct interactive workshops in Detroit that are geared toward fathers. Through the use of arts, entertainment, and popular culture, the project hopes to promote positive paternal involvement and spark discussions on the role of fathers in Detroit families. This project builds on their previous collaboration, where they gathered stories from Detroit fathers about their experiences and challenges in parenting. The workshops will include a documentary preview, a conversation on the impact of TV dads, an exploration of how advertising portrays fatherhood, and a stand-up comedy showcase featuring Detroit comedians who will incorporate their fatherhood experiences.
Detroit River Education
Project leads: David Porter, professor of English and Comparative Literature, College of Literature, Science, and the Arts; Kim Lijana, director, Center for Educational Outreach (CEO); Ebony Thomas, co-chair of the Joint Program in English and Education (JPEE), associate professor, College of Marsal Family School of Education
Community partners: Detroit Historical Society, the Wright Museum, the DNR's Outdoor Adventure Center, Michigan Underground Railroad Exploratory Collective, the Green Door Initiative, the Community Foundation for Southeast Michigan, and the Belle Isle Conservancy
Description: The project aims to utilize the Detroit River for experiential learning, strengthening partnerships, and expanding narrative-based river education. Currently, the Detroit River Skiff & Schooner Program has provided hands-on learning experiences for over 600 students. The program includes sailing on tall ships, building wooden skiffs, studying river life, and exploring historical narratives. The project seeks funding to organize three gatherings that will learn from other water-based experiential learning programs, advance long-term planning, and provide experiential learning opportunities for adult partners.
Detroit Land Lab
Project leads: Lisa DuRussel, associate professor of practice, School for Environment and Sustainability (SEAS); Melanie Manos, lecturer IV in art and design, Penny W. Stamps School of Art and Design; Nana Temple, graduate student, School for Environment and Sustainability
Community partners: Tanya Stephens, Detroit Vacant Land, Community Development Corporation
Description: The Detroit Land Lab initiative strives to assist residents in tackling the difficulties they encounter when dealing with government programs to acquire vacant land in Detroit. Its objective is to equip locals with resources and guidance on how to obtain and convert vacant land using established procedures by the Detroit Land Bank. This involves aiding with design methods, plot plan development, and brainstorming innovative land use projects. The ultimate aim is to empower community members, promote lasting transformation, and restore land ownership to Detroit residents through cooperative initiatives and community empowerment
Getting Investment Ready: Financial Coaching for Detroit Small Businesses
Project leads: Cathy Shakespeare, associate dean for Teaching and Learning, Arthur Andersen professor of accounting, associate professor of accounting, College of Stephen M. Ross School of Business; Christie Baer, assistant executive director, Center on Finance, Law & Policy, Gerald R. Ford School of Public Policy; Paul Steih, senior Global Client Service Partner (GCSP), College of Stephen M. Ross School of Business
Community partners: Grandmont Rosedale Development Corp., TechTown, Jefferson East, Inc., Eastdie Community Network
Description: The Detroit Neighborhood Entrepreneurs Project (DNEP) is teaming up with the Ross School of Business, U-M alumni, and Detroit-based business service organizations to create two 2-hour workshops for small businesses in Detroit. These workshops are designed to help improve financial management skills and increase access to capital. Key learning objectives will include understanding financial statements, budgeting, bookkeeping, making hiring decisions, and utilizing break-even and start-up cost analyses for funding pitches. The workshops will be held at different organizations throughout Detroit, with additional support from local partners. After the workshops, business owners will have the opportunity to receive individual consultations with student accounting consultants to provide further assistance
Taking it to the Street – Art, Agency, and Community
Project leads: Anna Muller, associate professor of history, Department of Social Sciences, UM-Dearborn College of Arts, Sciences, and Letters; Paul Draus, professor of sociology and anthropology, Department of Behavioral Sciences, UM-Dearborn College of Arts, Sciences, and Letters; Kristin Palm, assistant director of communications, UM-Dearborn Office of Communications
Community partners: InsideOut Literary Arts, Youth Justice Fund
Description: The "Art & Agency from the Inside Out" workshop series will be expanded to community venues in Detroit during the Fall and Winter of 2023/2024. The workshops are an extension of the Inside-Out Prison Exchange Program, bringing together UM-Dearborn students, staff, faculty, previously incarcerated individuals, and community members. Led by practicing artists, these workshops use various art forms to encourage introspection, discussion, sharing, and collaboration. The aim is to establish a deeper presence in Detroit, broaden the audience, and increase the workshops' impact by partnering with Inside-Out Literary Arts and Youth Justice Fund. Engage Detroit and matching funds will facilitate eight artist-led workshops in community spaces, targeting Detroit residents, including those previously incarcerated, youth, policymakers, law enforcement, and advocates.
The Best Classroom Project
Project leads: Dara Hill, professor of education operations, UM-Dearborn College of Education, Health, and Human Services; LaShorage Shaffer, associate professor of education, UM-Dearborn College of Education, Health, and Human Services; DeLean Tolbert Smith, assistant professor of industrial and manufacturing systems engineering, UM-Dearborn College of Engineering and Computer Science
Community partners: Best Classroom Project, Detroit Parent Network
Description: This project seeks to assist families in Detroit in making informed school choices for their children and to provide support to local youth with college admissions. The program is designed to target specific populations and will offer a series of workshops and lectures covering various aspects of school choice in Detroit, including application processes, different grade levels, and college admissions. The aim of the series is to raise awareness about the quality of education in Detroit, increase enrollment in local schools, and establish the University of Michigan's role in supporting school choice decisions and encouraging underrepresented Detroit youth to apply to the university's programs.
Visualizing Migration – Translating Detroit
Project leads: Kristin Dickinson, associate professor of Germanic languages and literatures, College of Literature, Science, and the Arts; Yopie Prins, professor of English language and literature, professor of comparative literature, Irene H Butter Collegiate Professor of English and Comparative Literature, College of Literature, Science, and the Arts; Michael Pifer, professor of Armenian language and literature, assistant professor of middle east studies, College of Literature, Science, and the Arts
Community partners: Arab American National Museum
Description: This project intends to enhance the mission of Translating Michigan website by concentrating on two particular areas in Detroit. The first area focuses on creating a project page named "The Middle East in Metro Detroit" that will record the histories of Middle Eastern migrant communities and develop an interactive story map on the website. The project requires funding to conduct workshops, facilitate student research at community archives, and host a launch event at the Arab American National Museum. The second area involves working with muralist Elton Monroy Durán in Southwest Detroit to curate a virtual tour of his murals, with the inclusion of archival materials and community interviews. These audiovisual materials will be presented on the website with teaching resources and inaugurated with a public event at Wayne State University.
Activating Alleys, Lots, and Hubs: Local Lessons in Grassroots Innovation
Project leads: Paul Draus, professor of sociology, and Jacob Napieralski, professor of geology, UM-Dearborn College of Arts, Sciences, and Letters, and Christopher Pannier, assistant professor of mechanical engineering, UM-Dearborn College of Engineering and Computer Science
Community partner(s): Alkebu-lan Village, Birwood House, Bailey Park Neighborhood Development Corporation, Rescue MI Nature Now, Mama Akua House
Description: This series of locally hosted, participatory problem-solving workshops will bring grassroots community leaders together with UM faculty and students engaged in projects related to alley activation; repurposing of once-vacant lots; and connecting community hubs with self-determination in mind. Participants will experience walking-talking tours of case study sites in each host community, as well as structured table discussions of critical questions, research opportunities and development strategies.
Workshop Dates: August 5, 2022; August 11, 2022; and October 27th, 2022
Bringing Together Women of Color in Detroit's Environmental Justice Movement & Building Leaders for Action
Project leads: Carmel Price, associate professor of sociology, UM-Dearborn College of Arts, Sciences, and Letters, Natalie Sampson, associate professor of public health, UM-Dearborn College of Education, Health, and Human Services, Amani Abuelenain, undergraduate student, UM-Dearborn, and Zeina Reda, undergraduate student, UM-Ann Arbor
Community partner(s): Laprisha Berry Daniels, Detroiters Working for Environmental Justice, Theresa Landrum, Original United Citizens of Southwest Detroit, Samra'a Luqman, Southend Dearborn resident and activist, and Hana Masri, Arab Community Center for Economic and Social Services
Description: We plan to hold a one-day event on the theme of environmental justice, with a focus on the leadership of youth and women of color, particularly those from Black, Arab, and Latina communities. The day will include panels, workshops, performances, and a screening of the short film "Pollution Has No Boundaries," depicting toxic tours and the disproportionate environmental impacts of industry on communities of color in Detroit.
Workshop Date: July 23, 2023
Building a Sustainable Water Future for Detroit: Infrastructure, Climate, Resilience, Restoration, and Social Equity
Project leads: Bill Currie, professor and associate dean for Research and Engagement, School for Environment and Sustainability, Virginia Wilkinson, Deputy Director and Program Manager, School for Environment and Sustainability, Barbara Israel, professor and director, Urban Research Center
Community partner(s): Jefferson East, Inc., Detroit Riverfront Conservancy
Description: This is a one-day workshop in Detroit focused on water infrastructure, climate change-induced flooding and climate resilience, river restoration, and access to healthy water, with a strong theme of water equity and environmental justice. The workshop participants will develop a consensus statement of water infrastructure, restoration, and equity issues together with a list of action strategies that U-M faculty and community organizations can consider pursuing together.
Workshop Dates: May 12, 2023
Detroit Reuse Collective: A Workshop Bridging Material Reuse and Housing in Detroit
Project leads: Cyrus Penarroyo, assistant professor of architecture, De Peter Yi, lecturer and 2018-2019 Walter B. Sanders Research Fellow, and Laura Peterson, lecturer, Taubman College of Architecture and Urban Planning
Community partner(s): James and Grace Lee Boggs Center/Council, Peace Tree Parks, Recycle Here!, and Adaptive Construction
Description: The Detroit Reuse Collective is a proposed workshop that highlights and supports the small-scale efforts of Detroit residents in renovating properties obtained from the Detroit Land Bank Authority into future homes and community gathering spaces. Inspired by the tradition of barn-raising as both a celebration and an act of building together, the workshop will facilitate dialogue and sharing of ideas and resources through collective making.
Workshop Dates: February 4, 2023
Greenprint Detroit: Advancing Ecological Literacy through the Lens of Legacy Soils
Project leads: Lisa Du Russel, assistant professor of practice, landscape architecture, and Nana Temple, graduate student, School for Environment & Sustainability
Community partner(s): Amanda Paige and Katrina Watkins, Bailey Park Neighborhood Development Corporation
Description: This project aims to advance ecological literacy of the community members of the McDougall-Hunt Neighborhood (bounded by Gratiot, Vernor, and Mt. Elliot) on Detroit's east side. This engagement project will consist of two workshops in Summer 2022, focused on the history and existing condition of neighborhood soils as a theme for education, exploration, and action. The major outcome of this work will be a change in attitudes towards science/research/ecology through participation in citizen science. The intention is that the materials used and created for this effort will generate transferable knowledge to other Detroit communities.
Workshop Dates: July 12, 2022; July 16, 2022; August 28, 2022; October 8, 2022;
October 10, 2022; and March 25, 2023
Making Change through Making Art
Project leads: Victoria Shaw, Detroit School Partnerships Lead, Katrin Robertson, lecturer in teacher education, School of Education, and James Leija, deputy director for public experience and learning, U-M Museum of Art
Community partner(s): Yvette Rock, Live Coal Gallery, Chandrika Williams, The School at Marygrove
Description: Making Change through Making Art will bring together Detroit-based visual artists with students from Detroit Public School Community District (DPSCD) in a series of art-making workshops and a Community Conversation to explore how engaging with visual arts can promote social justice activism. The workshop series will culminate with a Community Conversation featuring Detroit students, teachers, and artists in conversation with staff from UM Museum of Art (UMMA) and UM School of Education (SOE) about how art practice can accelerate social change. This project will strengthen links among the Detroit arts, DPSCD, and UM communities by deliberately centering the expertise, learning, and talents of Detroit youth, artists, and teachers. This disrupts usual patterns of university scholars speaking for or reporting on partners and instead centers Detroit voices as expert and significant.
Workshop Dates: May 17, 2023
Trauma-Informed Programs and Practices in Schools (TIPPS) for Early Childhood (TIPPS-EC)
Project leads: Todd Herrenkohl, Marion Elizabeth Blue professor of children and families, Daicia Price, clinical assistant professor of social work, School of Social Work, and Alison Miller, professor of health behavior and health education, School of Public Health
Community partner(s): Development Centers
Description: Early childhood (EC) settings play a vital role in shaping the health and well-being of young children, and EC professionals are essential partners in mitigating the negative impacts of exposure(s) to chronic stress and trauma on early childhood development. Yet, EC centers and professionals are overburdened and lack trauma-informed professional development opportunities. We propose to build on our extant work on systemic approaches to trauma-informed schools (TIPPS) to develop and deliver at least 2 workshops in partnership with Detroit-based EC community partners who have requested such training, to focus on using systemic approaches to mitigate the impacts of trauma exposure for young children.
Workshop Dates: August 22, 2022; September 23, 2022; October 28, 2022; and
November 18, 2022
*Access the full report by clicking on the image associated with each topic.
---
---
---
---
---