Like so many students in the middle of engaged learning experiences when the Covid-19 pandemic disrupted education at the University of Michigan, Edward Peper and his classmates were challenged to find a solution to continue their hands-on research.
Their task, working with the U-M Transportation Institute, was to use simulation software and a motion based platform to mimic driver behavior. Students created traffic scenarios involving distracted drivers to see how subjects would react to unexpected road events. Key to measuring response was a motion seat platform in the lab-based course at the institute.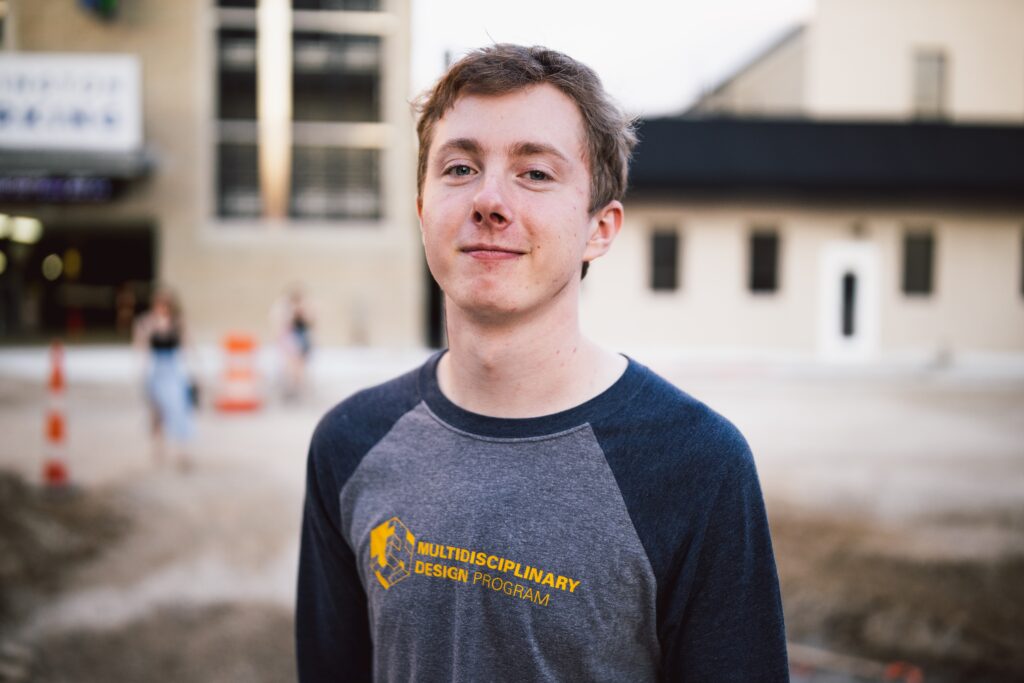 "We were supposed to work with a physical device and get it to work and we didn't have access to that physical device anymore," Peper said, referring to what happened in March when the campus move to shut down labs. "They closed the facility to undergraduate students."
So Peper, a computer science engineering graduate and motion platform algorithm engineer for the Real-Time Driving Simulator team within the college's Multidisciplinary Design Program, ordered parts to create a mini motor in order for the team to get hands-on experience using a substitute physical motion device in their own homes.
Peper, now a software engineer at General Motors, represents the 96% of 2020 graduates who say the pandemic did not keep them from having an engaged learning experience during their U-M careers.
"Our work didn't suffer just because we were apart. Everyone that I had a pleasure to work with was really dedicated and treated it like a school project," Peper said. "They wanted it to get done on time; wanted to go above and beyond."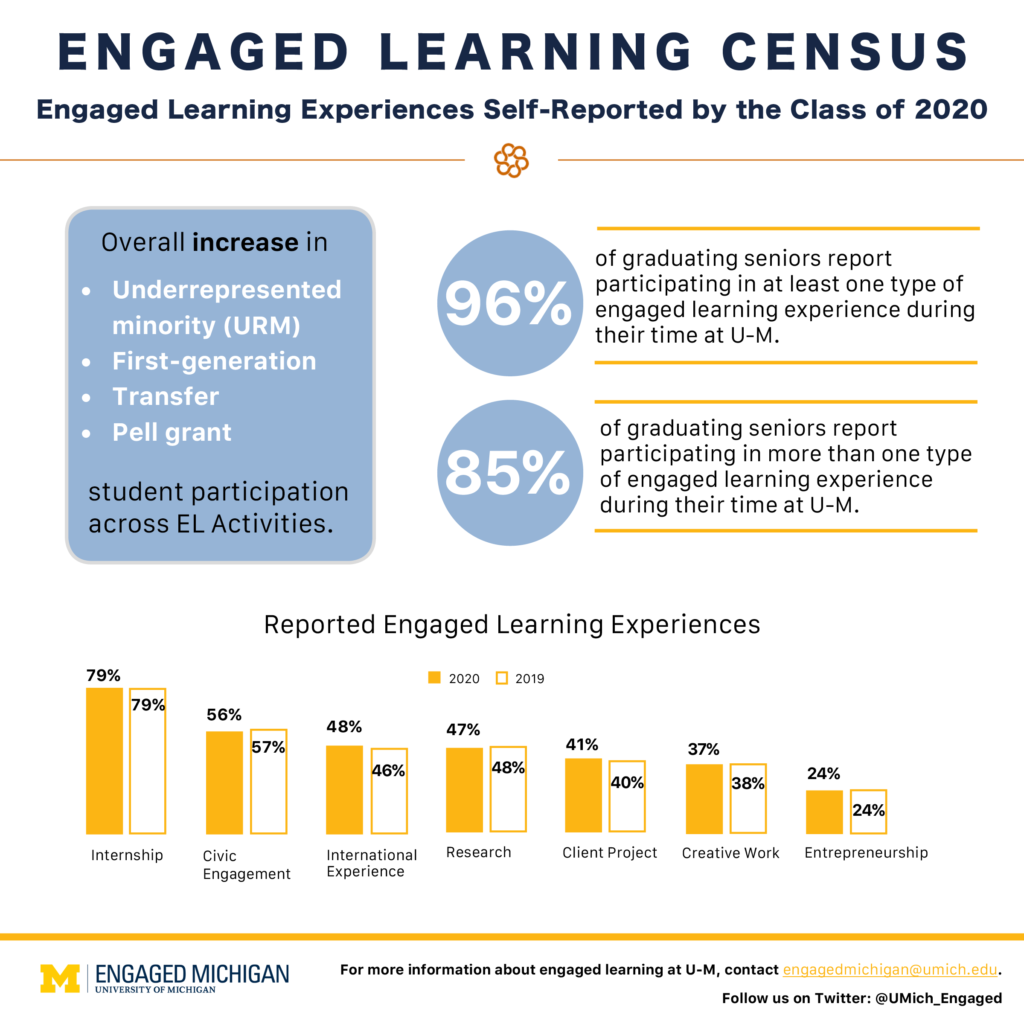 An annual report on engaged learning activities—educational opportunities that give students a chance to build their capacities as contributors to future communities—showed static levels of participation overall among 7,300 graduating students in internships, civic engagement, international experiences, research, client projects, and creative or entrepreneurial activities over their careers at U-M.
Further, there were some increases in underrepresented minority, first-generation, transfer and Pell grant student participation. International participation in engaged activities overall was up slightly, but both domestic and international students reported a decrease in internships. Female students continued to report more experiences than males across most categories except entrepreneurship and client project experiences.
Each year since the survey began in 2017, 96% of students annually have self-reported being involved in an engaged learning experience. In 2020, 85 percent of them had more than one experience, only slightly lower than the year before. The survey includes students who graduated in May and December 2020.
"The 2020 report is encouraging and remarkable. To me it is a testimony to the resiliency of our students and our partners who engage them," said Valeria Bertacco, vice provost for engaged learning.
"In the middle of the Winter 2020 semester, many students' experiences were abruptly suspended. Many students could not continue their research projects, were suddenly grounded from travel and from in-person activities, and saw several planned opportunities evaporate as outside organizations altered their work plans. Yet, many students like Edward Peper found alternate ways to bring their endeavors to success. We keep learning every day of creative ways people found to continue their work, or to pursue engaged learning activities working around the constraints on the ground.
"We have to keep in mind this is a career-wide survey, so it includes students' engaged learning experiences before the pandemic as well. While it may be too early to see the full impact of COVID-19 on engaged learning activities at the University of Michigan, we are hopeful that most students still had the opportunity and privilege to complete an engaged learning experience, thanks to their creativity and that of the partners with whom they worked."
Across the activity types, fewer students reported internships and client projects, while the other categories all saw modest increases.
Like Peper, biomedical science graduate Mohamad Awada, had to adapt his work as a success coach with 6th grade math students through the CityYear program. The national program with a Detroit location states its mission to "support students' social, emotional and academic development while providing schools with additional capacity to enhance learning and belonging."
Getting the young people in 3rd through 8th grades to engage online was a huge hurdle, said Awanda. Part of the challenge during the pandemic was to make the online learning space fun.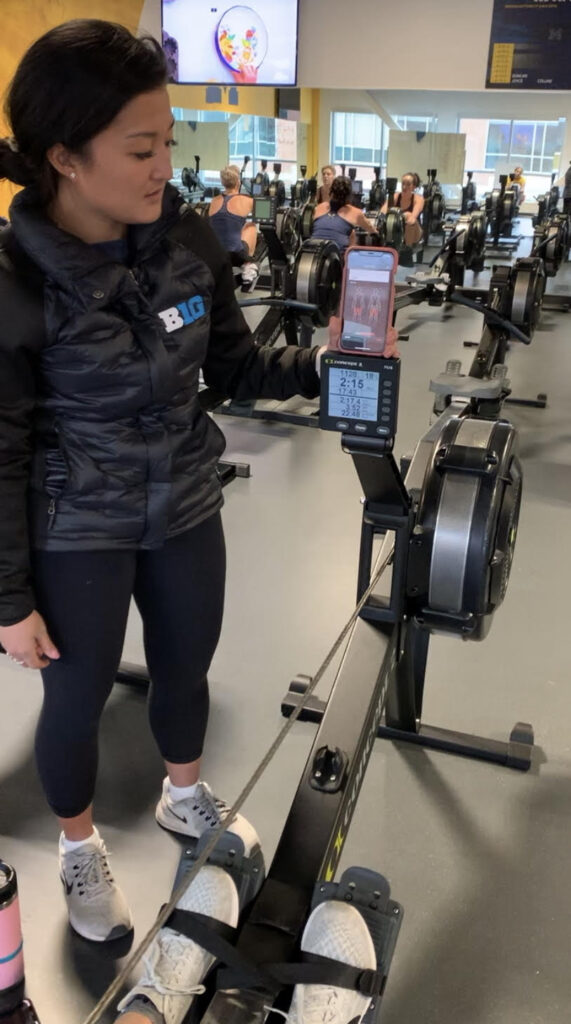 "I never really had that kind of role model in my primary education and I wanted to be that role model for the younger students," he said.
Erika Yasuda, a member of the U-M rowing team, was among the students who participated in hands-on research experiences. In fact, the School of Kinesiology Movement Science graduate was involved with a number of experiments, including a couple with Peter Bodary, clinical assistant professor, who helps students experiment with wearable technology.
"I walked in my sophomore year and asked if he had a project for me," Yasuda said, adding she was confident she could find an engaged learning experience with Bodary or another member of the faculty, as all she had encountered in her courses were eager to help students practice the skills learned in what she described as small classes with a number of hands-on experiences.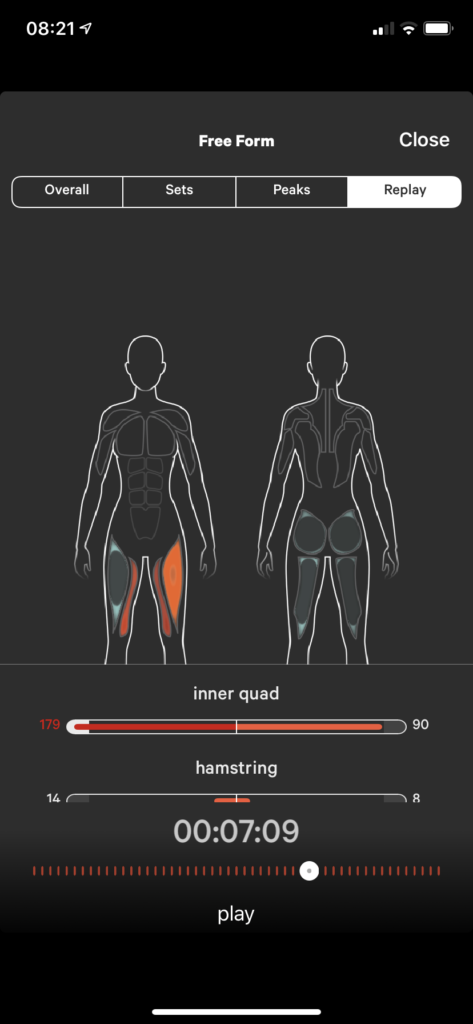 "We learn so much about wearable technology in class but it makes so much more sense when you can apply it in a research setting."
Using sophisticated equipment—in this case leggings with sensors, an iphone and an app—Yasuda was able to measure activity in the hamstring, glute and quad muscles of her rowing teammates to see if they were using muscles properly during practice. From her position as the coxswain, the team member who gives rowers directives on how to move through the water, she could provide instant feedback about how they should change their technique to help avoid injury and improve performance. Coaches could also use the data to identify general muscle activation patterns among the rowers and demonstrate new techniques in a more visual manner.
Yasuda said she also took the technology beyond the campus rowing team to a local spin class, and learned a great deal tracking her own muscle performance while riding.
Her final research project through the school was with the Intraoperative Neuromonitoring program which involves placing electrodes into a patient to monitor nervous system response during delicate surgical procedures. This has led to her current position in California with National Neuromonitoring Services. She hopes to go on to medical school.
Access the full 2020 Engaged Learning Census report here.