Blueprints for Pangaea, a student-run 501(c)(3) medical surplus recovery organization (MSRO), coordinated a donation of around 700 plastic face shields to Packard Health, Hope Clinic, Jewish Family Services of Washtenaw County, and SafeHouse Center, thanks to a generous donation of PPE from Crawford Industries and Systematics, Inc.
Additionally, in March 2020, the student-run group acted fast to redirect $9,000 of PPE to Michigan Medicine and Beaumont Health when campus went remote.
In the coming weeks, the student org plans on donating 300-400 additional face shields to various Detroit organizations in collaboration with their Wayne State chapter, and additionally, has 4,000 face masks on the way and stand ready to support Ann Arbor and Detroit front-line organizations throughout the rest of the COVID-19 pandemic, said Grant Veldhuis, Blueprints COO and LSA sophomore.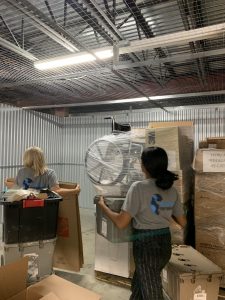 "Though our efforts are usually more international facing, we felt that COVID-19 illuminated stark health inequities that are still present in our own country," Veldhuis said. "That is why we have already begun donating essential PPE to local, front-line organizations and stand ready to do so in the months ahead."
To facilitate this project, Blueprints recently received a $17,000 grant from the U-M Barger Leadership Institute as a Capstone Team, which will be used to create an inventory app to expedite their shipping process and allow them to send more medical supplies in a more targeted approach, said Naquia Unwala, junior in the School of Public Health and Blueprints' Chief of Expansion.
In addition, the U-M Barger Leadership Institute selected Blueprints as this year's London Idea Project because of their work to help mitigate social disparities and health inequities in local communities. Through this initiative, Blueprints will have specialized support, connections to mentors and an opportunity to present at The London Idea Foundation benefit.
"We are looking forward to working with our passionate members, chapters, and local communities to ensure that at-risk populations are receiving equitable care during this time," said Unwala.
Blueprints has also donated to "Clubs for A2" fundraiser to provide financial relief to local businesses in Ann Arbor and is exploring the possibility of more independent shipments to domestic medical centers in need of PPE, said John Fitzpatrick, LSA sophomore studying Economics and Blueprints's VP of Development.
"Some factors that would need to be considered for our future impact will be the severity of the crisis in the future and whether Michigan will be open in the Fall," Fitzpatrick said.
What is Blueprints For Pangaea?
Blueprints is a medical surplus recovery organization (MSRO) that works to provide sustainable solutions to inefficient healthcare resource distribution. Their business model is simple: Blueprints receives excess medical supplies and redistributes it to places in need. Places they have sent supplies to in the past include Ghana, Niger and Syria.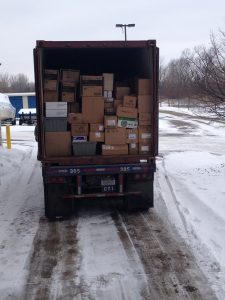 The US healthcare system annually disposes of 10 billion pounds of unused but usable medical supplies and equipment, valued between $6 to $24 billion dollars. 95% of this waste is not being diverted.
This issue not only creates a large economic impact, but also has a significant environmental impact. These supplies are either expired or unexpired but healthcare systems don't have room for, and when discarded, they are either incinerated or thrown in landfill. The healthcare industry is the second-largest contributor to landfills, accounting for 10% of greenhouse gas emissions in the US.
Blueprints for Pangaea utilizes their national network of university chapters to redirect life-saving medical supplies away from landfills and into the hands of medical professionals. Currently, Blueprints has 5 university chapters.
Mayank Jayaram founded the MSU Chapter of Blueprints in 2017 and is a current second-year medical student at U-M and senior analyst for Blueprints. Jayaram believes Blueprints is on the verge of breaking out into the national scene.
"I envision Blueprints as a leader in medical surplus redistribution with collection centers located at all corners of the country," Jayaram said. "As Blueprints continues to grow, I expect our organization to play a more pivotal role in emergency aid or disaster relief both domestically and internationally."
In 2014, founder Ben Rathi created Blueprints For Pangaea with a diverse group of students at the University of Michigan. In its 6 years of operation, Blueprints has sent over 3 million dollars worth of medical supplies, which equates to more than 70,000 pounds. Many members cite the magnitude of impact they are able to do as students in the org as the main reason for their involvement.
"When I saw the org at FestiFall and they spoke to me about what they do, I thought 'this is what college is about,'" Veldhuis said. "It's a bunch of unbelievable thinkers in one place making an incredible impact, a diverse collective of people all united by this passion for public health, alleviating global health inequities, and addressing the environmental impact of healthcare. I wanted to be a part of that impact."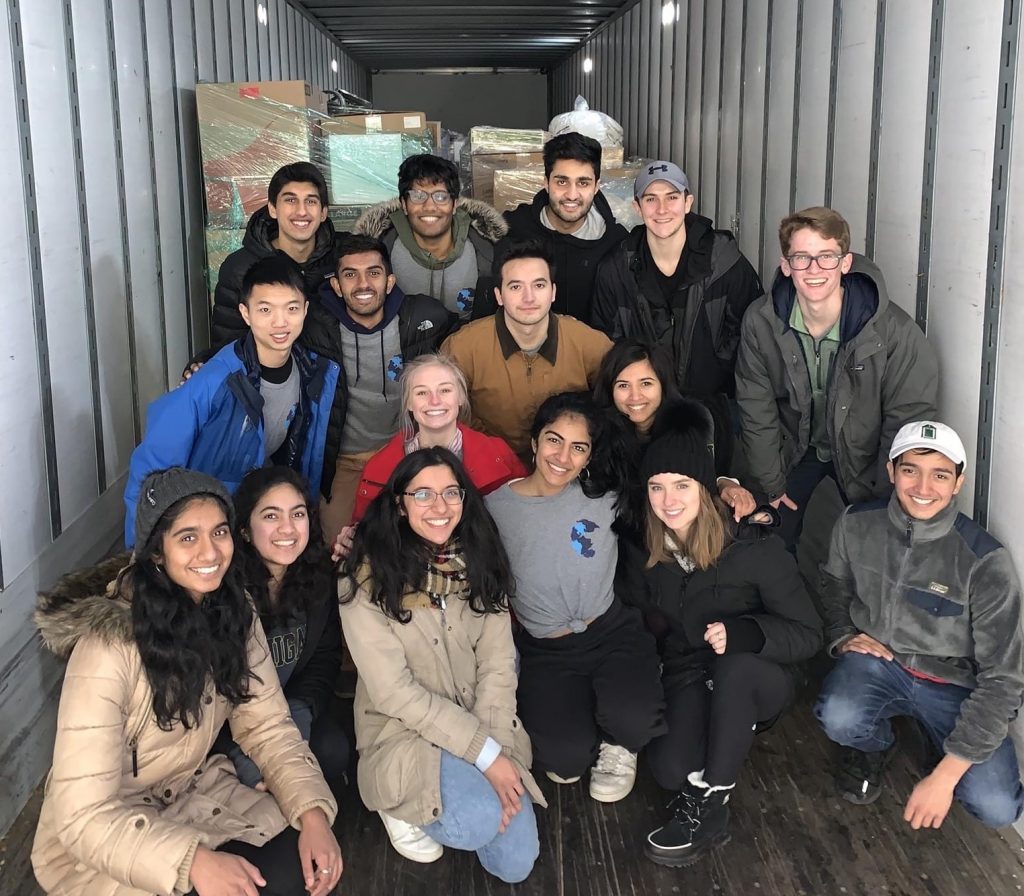 The org recently received the IPE Innovation and Excellence at U-M award, which recognizes student groups for their organizational change, interprofessional education (IPE) opportunities and scholarship in the realm of interprofessional education. Blueprints has students from Business, Law, Medicine, Engineering, Public Health, Public Policy, and LSA.
"I believe Blueprints has the ability to bring increased awareness to this problem," said Rishita Gudeti, Business sophomore and analyst at Blueprints, "and show people that not being a part of the medical field does not mean medical resource inequality is something they cannot work to diminish."
Michigan Center for Interprofessional Education
The Michigan Center for Interprofessional Education is supported by a five-year, $3-million grant from the Provost's Transforming Learning for the Third Century Initiative, which is matched with an additional $3 million from the deans of the seven health science schools: School of Dentistry, School of Kinesiology, Medical School, School of Nursing, College of Pharmacy, School of Public Health, and School of Social Work.