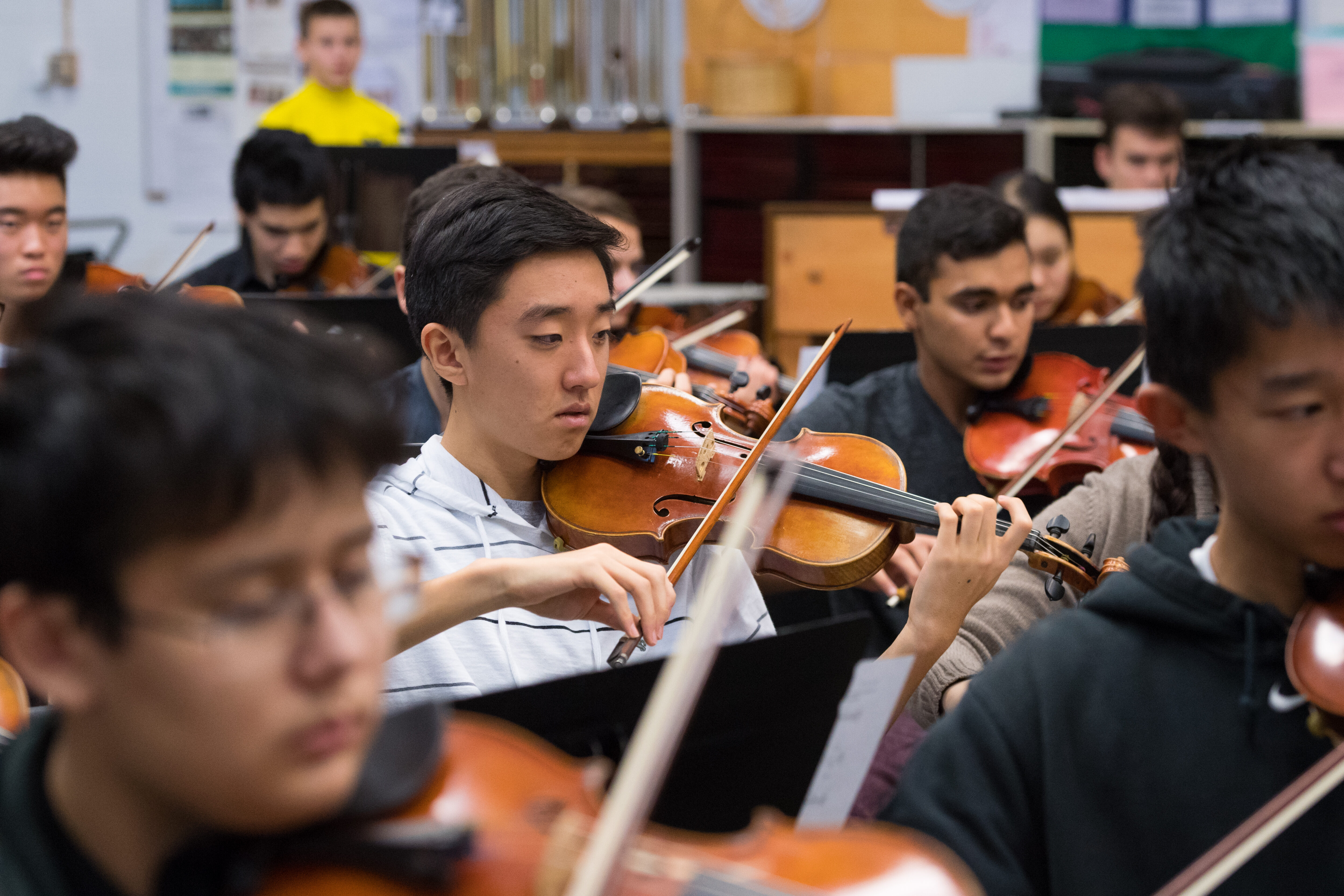 The bell sounded at 12:30 p.m. Students slowly started trickling into the Ann Arbor Pioneer High School Orchestra rehearsal room, carrying instruments of every shape and size.
As they filled their seats and settled in, some craned their necks to get a glimpse of  Indian musician Rajeeb Chakraborty dressed in a dark blue kurta, tuning his string instrument in the center of the room.
Slowly, everyone took their place in the orchestra formation, the string instruments on either side, the trumpets, tubas, flutes, clarinets and bassoons section in the middle and the percussion in the back.
Jonathan Glawe, director of orchestras at Pioneer High School, welcomed the guests: Mousumi Banerjee, a University of Michigan professor, and Chakraborty, an Indian musician on Fulbright scholarship at U-M.
"We are here to introduce you to Rabindranath Tagore," Banerjee told the young musicians. "He is an Indian genius who composed lyrics and music for more than 2,200 songs but is largely unknown to the Western world."
Banerjee, a research professor of biostatistics at U-M's School of Public Health, grew up listening to and singing Tagore music. She engaged with the American students as a way to bring this beloved artist to the west, and for this practice session, the orchestra played Tagore's Aguner Poroshmoni. The title translates to light my soul with your fire. Chakraborty played with them on sarod, a popular Indian string instrument.
"We were really excited to play this music," said Miri Kim, a senior and president of the  student orchestra. "It seemed simple when we read it yesterday, but it sounds different—contemporary and complex—when all the music comes together."
This engagement with Pioneer High School is an effort by Banerjee to bring Tagore's music—which is popular in India but little-known outside—to the Western world.
Read the full story