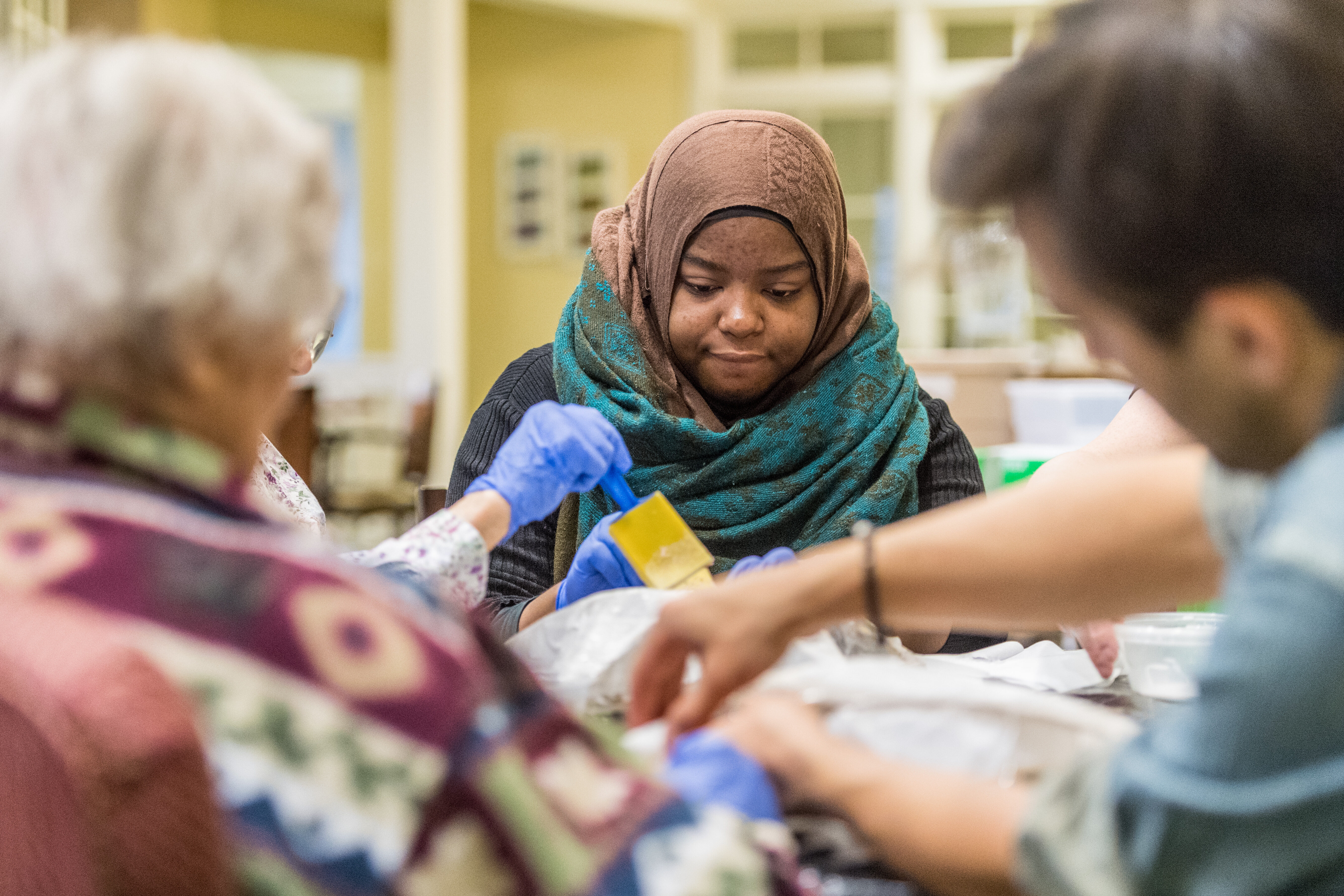 A group of young adults worked hand-in-hand with residents of the Memory Support Center at Brecon Village this past fall to forge light out of darkness.
Working across generations and the struggles associated with living with dementia, the teens guided the group of Saline residents in making 10-sided star-shaped paper lanterns — orbs that would light up the sky on the longest night of the year.
The teens — members of the Ypsilanti Corner Health Center Youth Leadership Council — and the residents collaged layers of tissue paper onto pre-fabricated plastic sheets that were then folded and stitched together to create the stars.
In a program facilitated by Anne Mondro, associate professor of art and design, and Charlie Michaels, assistant director of student and faculty engagement at the College of Engineering's Center for Socially Engaged Design, area young adults and local community members living with dementia have been united this past year to create seasonal public art installations centering on the themes of 'light' and 'growth.'
Titled "Between the Earth and the Sky: Intergenerational Interactions of Visibility" and supported by a National Endowment for the Arts grant and U-M Office of Research grant, the two groups will focus on the theme of growth by creating a public art piece composed of handmade, geometric, concrete planters filled with herbs that will form a sensory garden in a tessellation design. Pursued over the course of the spring and summer, the project promotes personal growth through education and awareness and physical growth of the natural world around us.
Organizers aim for the program to serve as a model for other schools or facilities to facilitate intergenerational arts programming.
Together, Mondro and Michaels have turned academic scholarship into an act of public engagement, creating a classroom outside the campus to serve those who might not always have access to the university.
"The arts and creativity can impact society in so many different ways," Mondro said. "It can generate discussions, it can bring people together. There's so much potential for the arts to bring new experiences to communities. I feel that we can do that here."