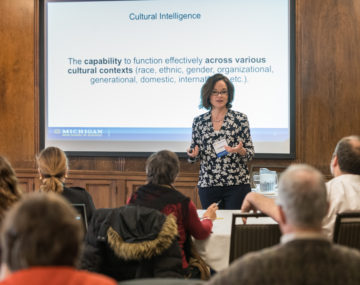 U-M faculty and staff are committed to advancing interdisciplinary engagement in communities in the state of Michigan, across the country, and around the world.
Sponsored by the Provost's Office, the following councils provide platforms for collaboration and coordination around important topics related to civic and global engagement. They are chaired by respected campus leaders and meet regularly throughout the academic year.
Council on Civic Engagement
Chair:  Nick Tobier, Ginsberg Center Senior Counselor to the Provost on Civic Engagement, and Professor, Stamps School of Art & Design
The Council on Civic Engagement (CCE) is an open cross-campus committee of faculty and staff. Our work is in sharing best practices, and increasing communication to foster opportunities in campus-community partnership, emerging research, and initiatives. As a council, our principles proclaim:
Fostering the integration of professional and public concerns into resulting civic impact, systemic change and an equitable and just society requires the integration of active participation in communities and understanding of implicit biases, confronting unequal access to power and privilege, and recognizing the needs and assets of all parties.
Civic engagement at the University of Michigan prepares students, faculty, and staff to work collaboratively through practice, teaching, and research towards these same goals for full participation in a complex, democratic, and just society. We engage with communities around the world to build mutual understanding, to improve the quality of life, and to affect systemic change through developing and integrating the combination of knowledge, skills, values, reflection and motivation to provoke inquiry and affect meaningful change through shared commitment, open communication, partnership, and reciprocity.
Council on Global Engagement
Chair:  Katie Lopez, Assistant Director of the Office of Global Activities, School of Social Work
Global engagement is core to the educational mission of the University of Michigan. The scope and excellence of our international learning opportunities are U-M differentiators and we are dedicated to helping all of our students experience the wider world through academic and co-curricular programs abroad. Equally important is the cultural and intellectual diversity that our international students and scholars bring to the U-M campus. The U-M continually seeks new ways to both expand education abroad capacity and to create a campus culture that helps students from all backgrounds learn from one another. The Council on Global Engagement (CGE) helps the University build greater cohesion, innovation, and quality in these efforts.