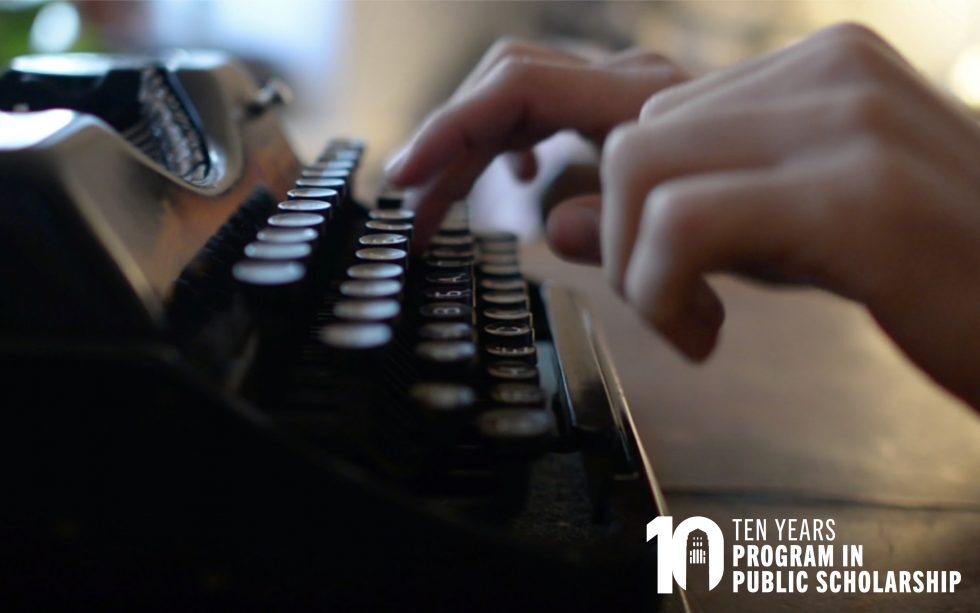 Though they have fallen out of common use, typewriters played a key role in how two Rackham alumni are helping the next generation connect with their creativity.
While researching for her dissertation on avant-garde Czechoslovakian publishing in the period between World Wars I and II, Rackham and U-M Department of Slavic Languages and Literatures alumna Meghan Forbes was inspired by the way those artists used typewriters and carbon paper to create novels and poetry. Together with fellow Rackham alumna Hannah Pröbsting, née McMurray, of the U-M Department of Germanic Languages and Literatures, she co-founded harlequin creature, a nonprofit literary micro-press. Every issue of harlequin creature's publication is typed on typewriters and hand-bound by a small team of volunteers, providing readers with a unique reading experience.
"At a time when dissemination is so easy online, we wanted to do something in the legacy of the interwar-era underground publishing movement," Forbes says. "Using typewriters slows the process and lets you really think about the act of writing and producing something, and it allows us to get more people involved in that process."
As part of the production process, the harlequin creature team hosts typing bees, during which volunteers type the issues on carbon paper. And after observing how much their volunteers enjoyed the work, Forbes and Pröbsting thought of another, more educational use for the venerable machines.
Using the typewriters that otherwise sat under Forbes's couch, Forbes and Pröbsting developed the idea of holding workshops similar to the harlequin creature typing bees to give students a fun, very different experience with writing, one that might help them get over a block they might have around it. 
"We hoped the workshops would inspire kids to take a different approach to writing," Forbes says. "If it was something they found stressful or hard to approach, we wanted to take away some of that weight and free them up to be more creative."
This project was made possible through an $8,000 grant from the Rackham Program in Public Scholarship (RPPS), as well as support from local nonprofit writing center 826michigan
For the full story and for more information about the impact of Forbes and Pröbsting's typewriting workshop, visit Discover Rackham.
Contact: James Dau
More Information:
Rackham Program in Public Scholarship