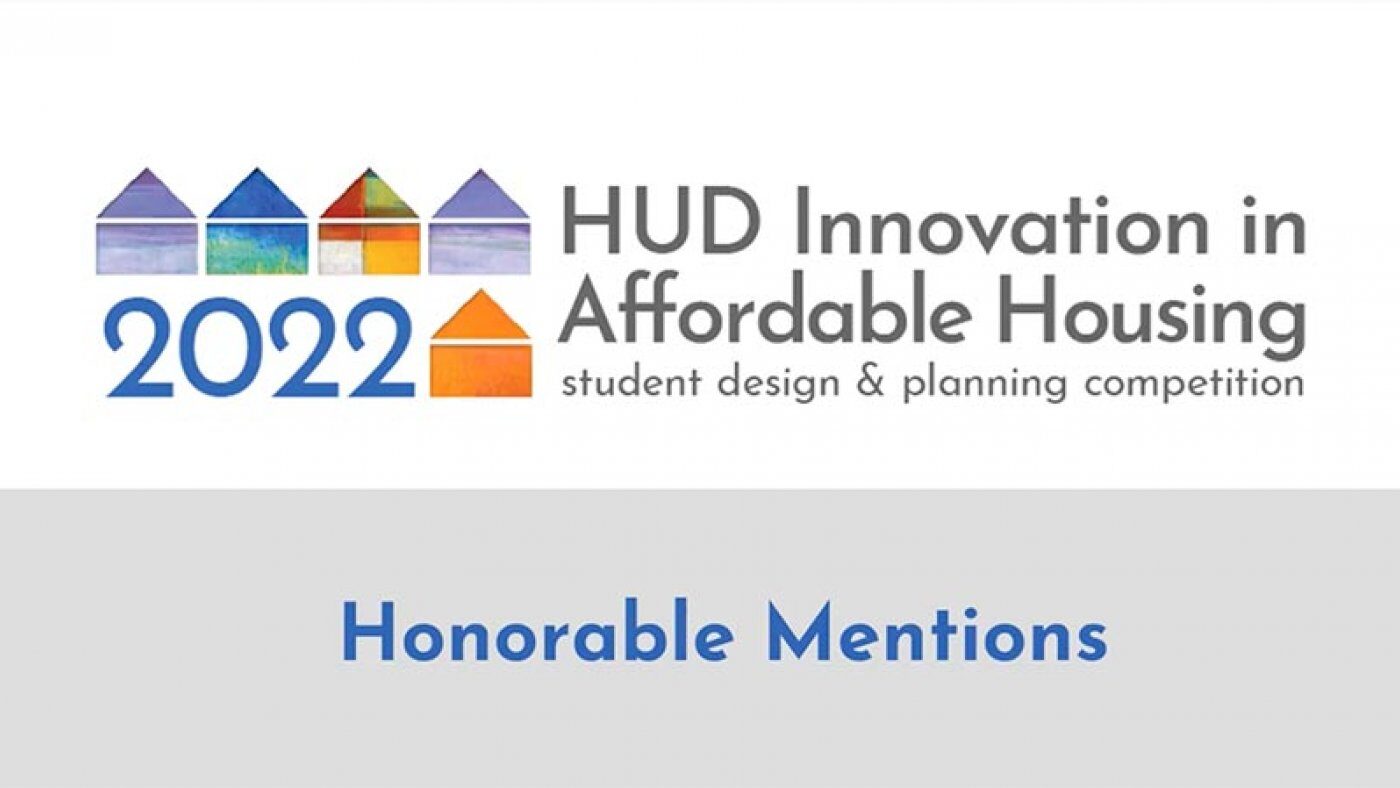 Three University of Michigan teams earned honorable mentions in the 2022 Innovation in Affordable Housing Student Design and Planning Competition sponsored by the U.S. Department of Housing and Urban Development (H.U.D.). The competition, now in its ninth year, invites interdisciplinary graduate student teams to propose housing solutions that show an "understanding of community, population served, housing affordability, and the development process, including design and finance."
Competitors focused on transforming 13.12 acres of developable land owned by Atlanta Housing (AH) into a vibrant mixed-use community. Larissa Larsen, chair of the urban and regional planning program, said, "Housing affordability is a problem in every city around the world. This competition presents students with a real place and requires them to apply their knowledge about how to advance affordable housing in a context-appropriate manner. Our students love this type of challenge."
Team U Mish proposed "The Buttermilk District," which included infrastructure such as bike lanes and bike-share, and raised crosswalks with solar-powered pedestrian lighting. Jurors said, "This proposal thinks outside the box on several fronts: financing, programming, resident participation, and site density in particular." The team members are Chelsea Gaylord, M.P.P.; Anthony Bui, M.U.R.P.; Kassem Chammout, M.Arch; Jihwan Park, M.B.A./M.U.R.P.; and Clayton Artz, M.Arch.
Team Nip It in the HUD proposed "Buttermilk Heights," a mixed-use, mixed-income community anchored by a skilled trades incubator and training center. The design of the complex was based on footprints of houses on the site in the 1930s. Jurors said, "It was good to see a proposal that didn't maximize density but rather paid attention to fitting into the existing neighborhood." The team members were Isabelle Borie, M.Arch; David Elam, M.U.R.P. and real estate development; and Nathaniel Nelson, M.Arch.
A combination of students from the University of Michigan and the Georgia Institute of Technology formed Team Possibilities. Their proposal included housing blocks designed to foster community and conserve energy to increase quality of life and reduce the financial burden tied to rental living and leveraged green public spaces to connect surrounding neighborhoods. Jurors said, "The project is thoughtful and feasible in terms of social justice, Atlanta history, and larger site-related strategies, particularly around Black-owned businesses, the dignity the project strives to offer residents, and equitable access to services.
Learn more about the 2022 HUD competition