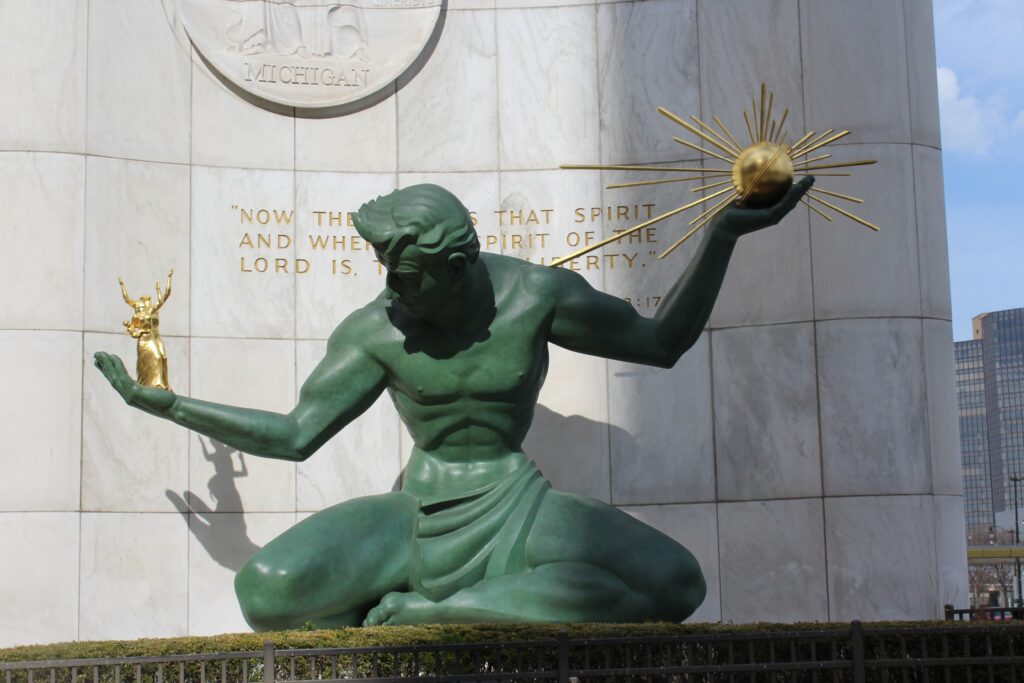 The Engage Detroit Workshops grant program supports small teams of U-M faculty, staff, students, and community partners in organizing workshops that will strengthen partnerships between the University of Michigan and Detroit.
The current round of funding is supporting projects through May 2023. You can review the list of awardees below.
Activating Alleys, Lots, and Hubs: Local Lessons in Grassroots Innovation
Project leads: Paul Draus, professor of sociology, and Jacob Napieralski, professor of geology, UM-Dearborn College of Arts, Sciences, and Letters, and Christopher Pannier, assistant professor of mechanical engineering, UM-Dearborn College of Engineering and Computer Science
Community partner(s): Alkebu-lan Village, Birwood House, Bailey Park Neighborhood Development Corporation, Rescue MI Nature Now, Mama Akua House
Description: This series of locally hosted, participatory problem-solving workshops will bring grassroots community leaders together with UM faculty and students engaged in projects related to alley activation; repurposing of once-vacant lots; and connecting community hubs with self-determination in mind. Participants will experience walking-talking tours of case study sites in each host community, as well as structured table discussions of critical questions, research opportunities and development strategies.
Bringing Together Women of Color in Detroit's Environmental Justice Movement & Building Leaders for Action
Project leads: Carmel Price, associate professor of sociology, UM-Dearborn College of Arts, Sciences, and Letters, Natalie Sampson, associate professor of public health, UM-Dearborn College of Education, Health, and Human Services, Amani Abuelenain, undergraduate student, UM-Dearborn, and Zeina Reda, undergraduate student, UM-Ann Arbor
Community partner(s): Laprisha Berry Daniels, Detroiters Working for Environmental Justice, Theresa Landrum, Original United Citizens of Southwest Detroit, Samra'a Luqman, Southend Dearborn resident and activist, and Hana Masri, Arab Community Center for Economic and Social Services
Description: We plan to hold a one-day event on the theme of environmental justice, with a focus on the leadership of youth and women of color, particularly those from Black, Arab, and Latina communities. The day will include panels, workshops, performances, and a screening of the short film "Pollution Has No Boundaries," depicting toxic tours and the disproportionate environmental impacts of industry on communities of color in Detroit.
Detroit Reuse Collective: A Workshop Bridging Material Reuse and Housing in Detroit
Project leads: Cyrus Penarroyo, assistant professor of architecture, De Peter Yi, lecturer and 2018-2019 Walter B. Sanders Research Fellow, and Laura Peterson, lecturer, Taubman College of Architecture and Urban Planning
Community partner(s): James and Grace Lee Boggs Center/Council, Peace Tree Parks, Recycle Here!, and Adaptive Construction
Description: The Detroit Reuse Collective is a proposed workshop that highlights and supports the small-scale efforts of Detroit residents in renovating properties obtained from the Detroit Land Bank Authority into future homes and community gathering spaces. Inspired by the tradition of barn-raising as both a celebration and an act of building together, the workshop will facilitate dialogue and sharing of ideas and resources through collective making.
Greenprint Detroit: Advancing Ecological Literacy through the Lens of Legacy Soils
Project leads: Lisa Du Russel, assistant professor of practice, landscape architecture, and Nana Temple, graduate student, School for Environment & Sustainability
Community partner(s): Amanda Paige and Katrina Watkins, Bailey Park Neighborhood Development Corporation
Description: This project aims to advance ecological literacy of the community members of the McDougall-Hunt Neighborhood (bounded by Gratiot, Vernor, and Mt. Elliot) on Detroit's east side. This engagement project will consist of two workshops in Summer 2022, focused on the history and existing condition of neighborhood soils as a theme for education, exploration, and action. The major outcome of this work will be a change in attitudes towards science/research/ecology through participation in citizen science. The intention is that the materials used and created for this effort will generate transferable knowledge to other Detroit communities.
Making Change through Making Art
Project leads: Victoria Shaw, Detroit School Partnerships Lead, Katrin Robertson, lecturer in teacher education, School of Education, and James Leija, deputy director for public experience and learning, U-M Museum of Art
Community partner(s): Yvette Rock, Live Coal Gallery, Chandrika Williams, The School at Marygrove
Description: Making Change through Making Art will bring together Detroit-based visual artists with students from Detroit Public School Community District (DPSCD) in a series of art-making workshops and a Community Conversation to explore how engaging with visual arts can promote social justice activism. The workshop series will culminate with a Community Conversation featuring Detroit students, teachers, and artists in conversation with staff from UM Museum of Art (UMMA) and UM School of Education (SOE) about how art practice can accelerate social change. This project will strengthen links among the Detroit arts, DPSCD, and UM communities by deliberately centering the expertise, learning, and talents of Detroit youth, artists, and teachers. This disrupts usual patterns of university scholars speaking for or reporting on partners and instead centers Detroit voices as expert and significant.
Trauma-Informed Programs and Practices in Schools (TIPPS) for Early Childhood (TIPPS-EC)
Project leads: Todd Herrenkohl, Marion Elizabeth Blue professor of children and families, Daicia Price, clinical assistant professor of social work, School of Social Work, and Alison Miller, professor of health behavior and health education, School of Public Health
Community partner(s): Development Centers
Description: Early childhood (EC) settings play a vital role in shaping the health and well-being of young children, and EC professionals are essential partners in mitigating the negative impacts of exposure(s) to chronic stress and trauma on early childhood development. Yet, EC centers and professionals are overburdened and lack trauma-informed professional development opportunities. We propose to build on our extant work on systemic approaches to trauma-informed schools (TIPPS) to develop and deliver at least 2 workshops in partnership with Detroit-based EC community partners who have requested such training, to focus on using systemic approaches to mitigate the impacts of trauma exposure for young children.