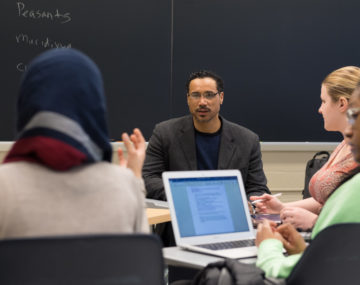 The University of Michigan's commitment to teaching excellence extends beyond the classroom, as Michigan faculty are continually innovating to offer challenging, sustainable, and ethical engaged learning opportunities for students — collaborating with real community stakeholders, traveling to authentic settings in Michigan and around the world, and helping students develop into reflective practitioners who can integrate their knowledge and learn from their mistakes.
In addition to innovative teaching approaches, the richness and transformative impact of engaged learning experiences often cannot be measured using traditional assessment methods. From electronic portfolios to rubrics to scales and inventories, faculty are using a range of instruments and assessments to capture student growth and development around the engaged learning goals.
There are many resources available on campus to support faculty, academic program staff, and graduate student instructors who would like to develop a new course or adapt an existing course to incorporate engaged learning elements and follow best practices.
Center for Research on Learning and Teaching (CRLT)
CRLT provides many helpful teaching resources, including several specifically for faculty who are leveraging the engaged learning goals and practices in their curricula. In collaboration with the Provost's Office, CRLT developed a growing resource on teaching approaches and assessment methods for engaged learning, including:
Community-Engaged Academic Learning (CEAL), LSA
CEAL offers Community-Based Learning (CBL) workshops that are designed with the engaged learning goals in mind, as well as reflective practice, community building skills, and professional development. Faculty and academic program staff can request a workshop.
The Engaged Pedagogy Initiative (EPI) is a semester-long community-based learning (CBL) training program for graduate students that promotes excellence in undergraduate teaching and professional development for GSIs. The EPI is jointly supported by CEAL and the Rackham Program in Public Scholarship.
CEAL also oversees the CBL Consultants Program, which provides dedicated support to LSA faculty members who want to develop a new CBL course or integrate applied learning with communities into an existing course. Consultants are undergraduate and graduate students with strong engaged learning and/or teaching-assistant experience. Consultants are trained in the theory, best practices, and implementation of community-based learning.
Edward Ginsberg Center
The Ginsberg Center supports faculty, academic program staff, and GSIs doing community engagement by helping to integrate mutually beneficial community engagement experiences into courses, research, and programs. Ginsberg staff can help academic partners connect with community organizations, design or refine community-engaged efforts, prepare students for community engagement, and assess impact of community engagement.
Ginsberg staff are available to:
Consult on assessment plans for community-engaged courses, programs, and research projects
Explore tools to measure student learning, intercultural understanding, and community impact
Utilize curriculum mapping to identify overlaps and gaps in instruction within departments