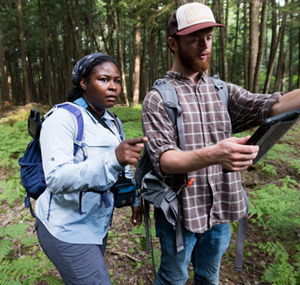 How we live impacts our planet in many ways. Sustainability scholars, researchers, and advocates at the University of Michigan strive to maintain our planet's life-support systems and to ensure that future generations can thrive here.
We have the knowledge, ideas, and ability to act, so as to leave future generations with a planet that has the same potential to support life and human activity as the one we all inherited. We can address the issue of sustainability from a very broad base of research and education, as well as through the actions we take as a community of more than 80,000 individuals.
Sustainability efforts are inherently interdisciplinary, drawing from the natural, social, and health sciences; the humanities; from professions such as engineering, public health, and social work; from the social and business sectors; from local communities, and all levels of government.
The highly complex environmental problems we face today can only be tackled through these highly-integrated approaches in order to make a lasting positive impact in our communities and worldwide.
---
Featured units in our sustainability ecosystem
Many units at U-M contribute to our sustainability efforts in research, education, community engagement, and operations. Among these are:
The School for Environment and Sustainability (SEAS) is the primary ​academic home for faculty and students whose work focuses on these topics. As an interdisciplinary school, SEAS spans the university and brings together students and faculty from all of our schools to contribute their ideas and talents to this important work. All of our other schools and colleges also do important work related to the environment and sustainability.
The Graham Sustainability Institute is a boundary-spanning organization that helps to connect external stakeholders to the considerable intellectual capacity of faculty, students, and staff throughout the university, with a focus on catalyzing and supporting sustainability-oriented collaborations that lead to real-world impact.
Planet Blue serves as the University of Michigan's web portal to describe our efforts to make our own campus more sustainable and collectively reduce our environmental footprint.