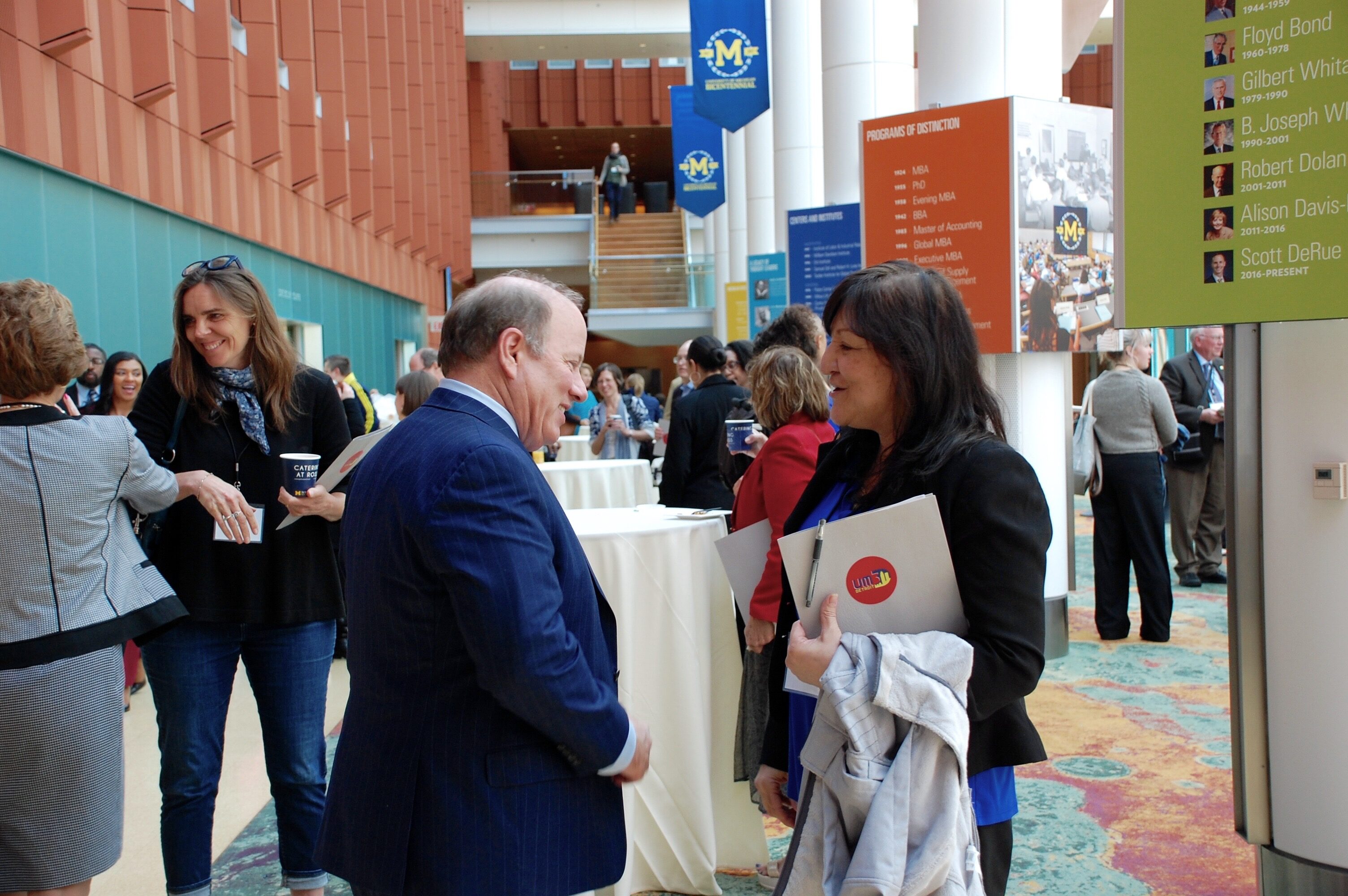 As the University of Michigan looks toward its third century, leaders are encouraging more faculty, students and staff to think creatively about ways to expand education and research opportunities in Detroit.
Through a day-long event called um3detroit that highlighted some of the 300+ university-community partnerships taking place in the city, leaders including U-M President Mark Schlissel, Detroit Mayor Mike Duggan and Vice Provost James Holloway emphasized the importance of the work and a desire to see more.
"A public university like U-M is at its best when our commitments to research, teaching, and service all work together to leverage the greatest possible impact for the communities we serve," Schlissel said during the event May 3 at the Ross School of Business.
"We have the capacity to apply an unmatched array of tools, a broad diversity of talent, and near boundless energy to the major challenges of our time, including the future of Michigan's largest city," the president said. "The greatest opportunities will emerge where all sides of our partnership can grow, by creating new educational opportunities, and new knowledge, in ways that we could not do alone."
The morning featured seven lightning talks and the afternoon several break-out sessions that allowed faculty from all three U-M campuses, Wayne State University and several community partner organizations to share multidisciplinary projects and programs that address housing, health, sustainability, public policy, poverty solutions, equity, youth empowerment and arts preservation.
"Over many years, decades in some cases, you have worked together to forge partnerships that bring benefits to the neighborhoods of Detroit, new opportunities for our students, and new knowledge for the benefit of all," said Holloway, vice provost for global engagement and interdisciplinary academic affairs. "Today's meeting is meant to be both an exploration of this work, a celebration of you who do this work, and an invitation for others to join in."
Detroit's mayor, an alumnus with two degrees from U-M, commented on the projects in the city, some of which were displayed on posters at the event.
"I'm so impressed when I look at all the boards of all the interesting things people are doing," Duggan said.
U-M has been working in the city since its founding there 200 years ago, and the mayor acknowledged the longest running contemporary project, the School of Public Health's Detroit Urban Research Center, which began in 1995.
"In this university, it's been interesting, you had folks here doing it before it was popular."
The mayor talked about the resurgence of interest in Detroit as a place to live and do business, but said the unique character of a city that grew out rather than up, and has gone from 1.8 million residents to 700,000, means many issues still need to be addressed.
"This is an urban challenge that is unlike any other and it's going to take solutions unlike any others," Duggan said.
He then presented a list of issues he hoped might spur interest among participants: conducting a mortality conference following crimes much like hospitals do to assess root causes in failed patient treatment, figuring out unique solutions to deal with sewage runoff that occurs with heavy rain increasingly driven by climate change, and how to address teen pregnancy and its link to a life of poverty.
Stephen Henderson, Detroit Free Press editor, WDET talk show host and Pulitzer Prize winner, shared a project he is working on to rehab his childhood home and improve the neighborhood. He spoke about the success of his partnership with Marygrove College to turn the home into a writer's residence and literary center.
Alena Williams, a health educator with the U-M Tobacco Consultation Service, shared a poster presenting her School of Social Work master's degree involvement with Cody High School. Her photo voice project encouraged high schoolers to be aware of social justice issues, particularly involving health disparities.
"It's near and dear to my heart. I am from Detroit," she said. "I feel inspired and empowered from Detroit. The real focus on collaboration gives the community a voice."
Erin Byrnes, lead for the Democratic Engagement and America Reads at the Ginsberg Center, wished more community partners had been present for the conference but said she appreciated that the university brought faculty and partners together to share what they are doing in the city.
She had advice for anyone who wants to get involved: "If you are a faculty member interested in working in Detroit, spend time there first and build relationships. The community partners can teach you infinitely more than you can teach them."
Leaders hope to make um3detroit a regular event. Holloway pointed out the significance of the 3 in the title. The university is celebrating its bicentennial this year and has for several years leading up to the event encouraged faculty, staff and students to define education for its third century. This included spurring engaged learning with $25 million awarded to faculty and staff for projects, programs and courses that showed promise to transform learning.
It also recognized the three U-M campuses that are all doing work in Detroit, and it referenced the University Research Corridor campuses of U-M, Wayne State and Michigan State, which are collaborating on learning and research activities in the city.